Milos NorthWest (Half Day)
Our goal is to explore the western (and wildest) part of Milos and arrive to the famous Kleftiko on the southwest coast. Arkoudes ('bears' in Greek) are sea-rocks of volcanic origin, which look like natural sculptures. They are located at the entrance of Milos bay. On the other side of the bay, we pass Cape Vani, an old manganese mine. As we cruise along the west coast towards the south, we reach Kalogries, a shallow beach with calm waters for our first swim. The next stop will be Sykia, a cave with sea entrance (access by boat only) and blue-green waters, where the rocks form a huge wreath.
At Kleftiko, the old base of pirates with crystal clear waters and numerous caves, you will meet an odd place from where you will never want to leave!
-As we cruise back to our base, we will have the opportunity to enjoy the sunset (afternoon cruises).
-Our skippers are always at your disposal ready to cater to your every need.
-Their experience, their deep knowledge of the beauty of the region and their willingness to provide excellent service will leave you with wonderful memories.
Whats included in the price
swimming ladder
sound system (Dual speakers, + Bluetooth or USB)
soft drinks, a platter of fruit and cheese, beer or wine
power anchor gear
LOWRANCE GPS plotter
inox sun canopy
fresh water shower
Experienced captain and crew
Experienced captain
Cruise ticket
Console/Steering Wheel
Bar on the boat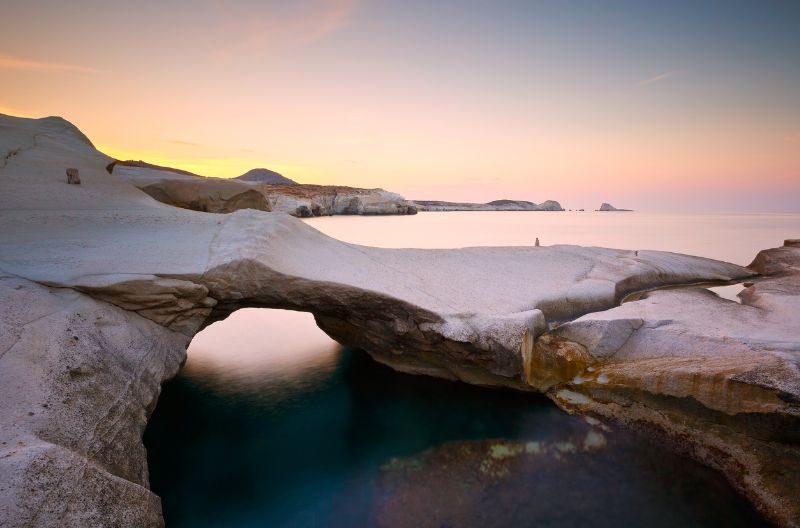 Milos NorthWest (Half Day)
Milos NorthWest (Half Day)
Milos NorthWest (Half Day)